A couple of weeks ago, at the Multilateral Investment Fund, where I work, we organized a workshop on crowdfunding together with massolution (a great look-back at the workshop and the third-level survivorship model of crowdfunding here). I still wanted to share a couple of thoughts on the principal elements to keep in mind when considering to bring crowdfunding to Latin America, especially when thinking of the potential social impact of this crescent funding mechanism.
I have already discussed some ideas on social impact and opportunities in a post leading up to the workshop. I was happy to see some of the elements, especially the focus on education, which is also to be considered as an elementary driver of development, strongly confirmed. It was great to learn Kiva has been expanding into funding education loans and other related projects.
In this post I would like to look at these key issues: the challenge of adoption and access; and creating added value of crowdfunding models.
1) Adoption and access challenge
As massolutions writes, crowds are essential for crowdfunding. Luckily, the crowd in Latin America is growing. Spanish is the second most written language on Twitter. Statistics show that Latinos are using social networks more than the overall average.
Now, to make the crowd engage in crowdfunding your very own business idea is the more challenging part. Especially to go beyond friends and family, and friends of friends, to what Kevin Berg Grell calls third-level survivorship and describes better than I could:
The key to success, however, is being able to pass third-party survivorship. The earliest of backers will often contribute to a campaign because of the emotional attachment to the owner or a person involved with the project. Their friends may also be more inclined to support a campaign if they have a loose connection to it. As the backers become three or more levels removed from the owner, however, the decision to fund becomes a rational one. If that owner can convince a large group of strangers that the campaign is worth backing, it is a good bet that the crowdfund will succeed.
The overall potential of backers for your business can be described through the following s-curve: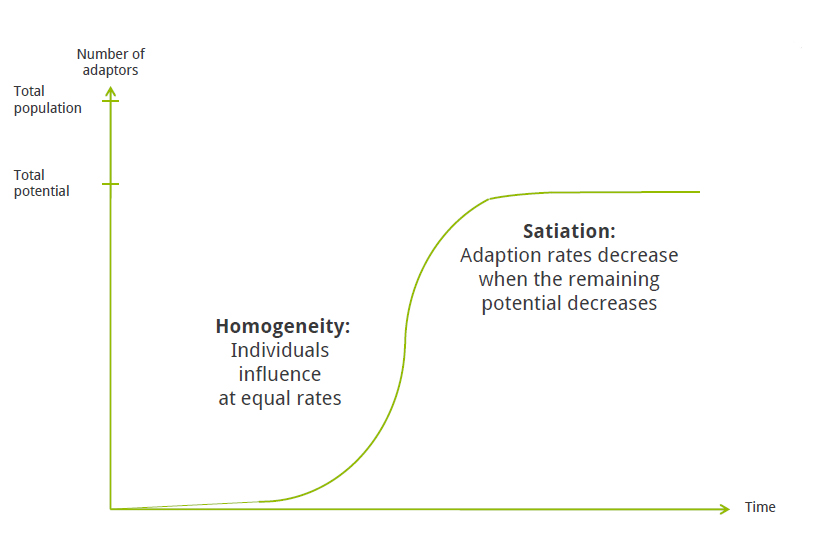 This image also makes evident an additional element that needs to be considered when thinking of crowdfunding in Latin America. And this is related to access to the internet, and how it affects the total potential of adaptors. Both for the potential backers, but also, for people with ideas, potential entrepreneurs. In Latin America, there is still a notable group of people who do not have the same level of access to the internet, and to the services. Here, an opportunity arises to create for example local organizations that can serve as innovation hubs bridging the online-offline gap. Or thinking of ways to bring these ideas to rural areas through a dedicated portal that uses mobile technology. Here, I think development organizations can provide value-added in supporting this infrastructure.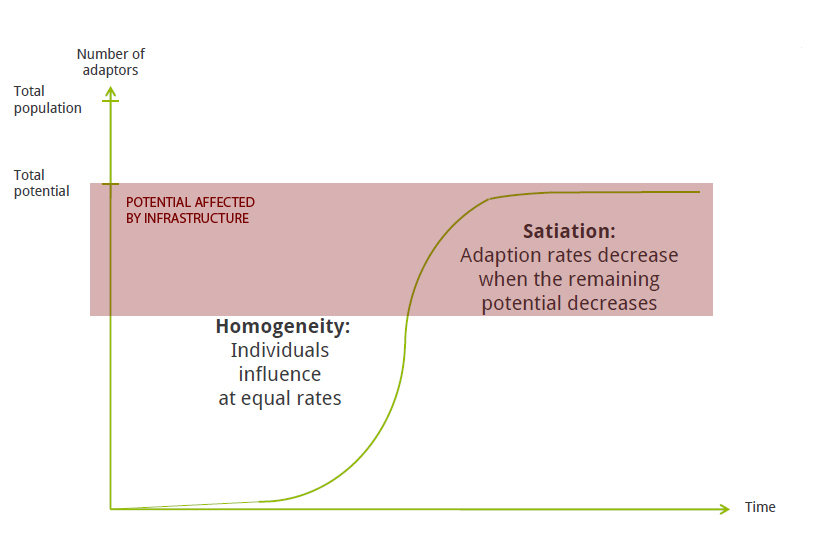 Which brings me to my next point.
2) Value-added crowdfunding models
As an ecosystem around entrepreneurship is just developing, including services such as how-to-create-a-business seminars, or start-up financing, platforms will want to work with entrepreneurs and small business to provide this value-added and ensure sustainability of their projects: training, mentoring, and guide their projects through the process.
This might also provide an opportunity to justify fees that can be inverted in running the platforms. Or it might provide an opportunity for businesses interested in impact investing to partner up and create challenges that provide co-financing for successful ideas, or, why not, a bank as a partner. Idea.me, the largest platform in the region, has been doing this already to a certain extent.
Another topic will require some exploration as well. While the kickstarter-type of crowdfunding has certainly set its foot in the region, equity-based  models are still only nascent. Cumplo in Chile, and Crowdfunder in Mexico is getting ready for launch. For small businesses, the "missing middle" between microfinance and bank loans affects about 65%. Equity-based crowdfunding has definitely a role in the market of providing finance to growing businesses, amidst the venture capital industry, and still the most common form of start-up funding that originates with friends and family members.
What other elements do you think are crucial to be tackled to make crowdfunding work in the region? How can the infrastructure gap be addressed?